Flying Emu
Map List
The ultimate listing/sighting management software for birders, now covering the whole world!
Map List Free Download Center | Map List Purchase Information
The free demo of Map List (for Windows 95/98) has...
Clickable, expandable taxonomic tree for quick and easy look up
Clickable, zoomable map of the United States and Canada
Optional clickable, zoomable map of the world
750 (and counting) seasonal bird checklists from North America presented on the map with colored symbols to show abundance during each season
Export function to write checklists to text files
Complete and actually helpful help system
The licensed version of Map List gives you all of the above plus the following:
Record and save your sightings by pointing and clicking on the map
A blank file with over 900 bird species seen north of Mexico ready for your sightings
Another blank file with over 10,000 bird species and a world map so you can record any bird, anywhere
Import your own custom checklists for anywhere in the world
Create your own taxonomic tree to record butterflies, mammals, etc.
Enter your sightings once into the database and create every list your heart desires - life list, state lists, county lists, state-in-year lists, month lists, day lists, country lists, continent lists, lists with just a particular order or family of birds... and it is all

extremely easy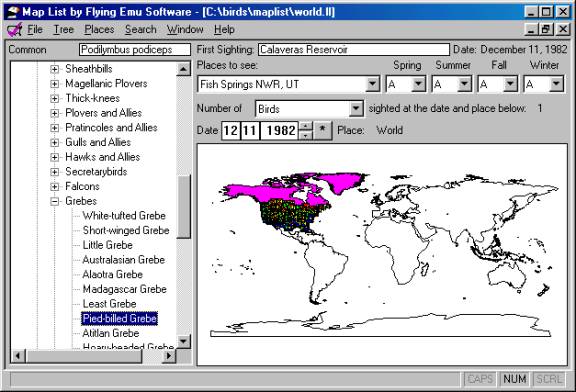 Links to web-published checklists | Other great birding links | Bird photo gallery
Map List | Flying Emu Home | BBA List
---
Flying Emu Software of Moraga, California is dedicated to providing high quality, powerful, easy-to-use software and using the power of the Internet to expand our knowledge of bird distribution and abundance. If you know of a web-published checklist with seasonal abundance, please send its URL to emupilotATflyingemu.com.  Checklist data is available for everyone to use for free through the Map List database and the Flying Emu checklist page.
<![if !supportEmptyParas]> <![endif]>